Games of Mystery, your source for mystery-themed electronic and board games, parties for kids and adults, and mystery getaway vacations, is pleased to announce the availability of a new mystery game from Big Fish Games released today. You can find out more about these games by visiting our Mystery Games: Big Fish Download Games page or by clicking on the links provided below.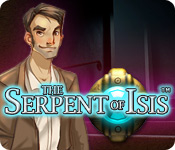 In the early 1900's the legendary artwork The Serpent of Isis was stolen at the grand opening of the Egypt Museum in Cairo. Originally discovered by your grandfather, you have been searching for the missing masterpiece your entire adult life. One day, a mysterious letter arrives indicating that the person who possesses the artwork can be found on board the Mont Palu Express. Catch the train and solve the ancient mystery!

The Serpent of Isis, a Big Fish Games exclusive, may be downloaded and purchased for as little as $6.99 with the Big Fish Game Club Jumbo Pack. A demonstration version (100.97 MB) may be downloaded and played for one hour for free. The Serpent of Isis Strategy Guide is also available.

Watch a preview video below:
Other popular games on our download Big Fish Mystery Games page include several Agatha Christie and Nancy Drew games, games in the Mystery Case Files series and in particular the latest, Mystery Case Files: Return to Ravenhearst, Adventure Chronicles: The Search for Lost Treasure, the Carol Reed mystery Remedy, Mystery Legends: Sleepy Hollow, Mystery Chronicles: Murder Among Friends, and Lost Realms: Legacy of the Sun Princess.
Big Fish Games: Bestsellers

Big Fish Games: New releases

And don't forget to visit Games of Mystery for all kinds of mysterious fun!
Return to Mystery Books News ...