Games of Mystery, your source for mystery-themed electronic and board games, parties for kids and adults, and mystery getaway vacations, is pleased to announce the availability of a new mystery game from Big Fish Games released today. You can find out more about these games from our Mystery Games: Big Fish Download Games page or by clicking on the links provided below.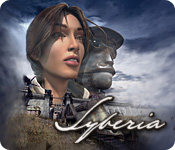 Kate Walker is a young lawyer visiting France to close the sale of a large manufacturing estate. But when the estate's owner turns up dead, Kate must search for the hidden heir, a man both brilliant and mysterious. Follow Kate's progress through intricately detailed environments filled with clockwork devices, automatons, and other deviously clever machinations. Delve into a mechanical wonderland filled with puzzles and surprises, on a journey that reaches far into the imagination.

Syberia was originally released several years ago on the PC and remains one of the top-rated adventure games ever produced. We're delighted it is now available as an adventure game download from Big Fish Games. Syberia may be downloaded and purchased for as little as $6.99 with the Big Fish Game Club Jumbo Pack. Due to the large size of the game, a demonstration version is not available.

View the trailer for Syberia below:
Other popular games on our download Big Fish Mystery Games page include several Agatha Christie and Nancy Drew games, games in the Mystery Case Files series and in particular the latest, Mystery Case Files: Return to Ravenhearst, Art of Murder: FBI Confidential, the Carol Reed mystery Remedy, Veronica Rivers: Portals to the Unknown, Mystery Chronicles: Murder Among Friends, and The Treasures of Mystery Island.
And don't forget to visit Games of Mystery for all kinds of mysterious fun!
Return to Mystery Books News ...