Games of Mystery, your source for mystery-themed electronic and board games, parties for kids and adults, and mystery getaway vacations, is pleased to announce the availability of a new mystery game from Big Fish Games released today. You can find out more about these games from our Mystery Games: Big Fish Download Games page or by clicking on the links provided below.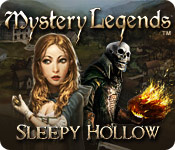 All small towns have their secrets and stories, but none such as Sleepy Hollow, whose legends are most grim and gory. By day a quaint village full of sunshine and banter, by night a place haunted by hoof beats and spectral laughter. Explore Sleepy Hollow as never before, searching for clues into the ancient legend. But beware! Each night the Horseman rides as he takes another victim. With eerie, absorbing locations, chilling clues and mini-games, you must unravel the mystery before it's too late …
Mystery Legends: Sleepy Hollow, a Big Fish Games exclusive, may be downloaded and purchased for as little as $6.99 with the Big Fish Game Club Jumbo Pack. A demonstration version may be downloaded (76.72 MB) and played for one hour for free.
Big Fish Games is offering a special deal now through the end of the year. All games are 50% off! To realize your savings, click the Buy button for any game you want. Sign in or create a new account. Select the $19.99 price option. Then type in coupon code HOLIDAY2008 into the box. All purchases must be completed by January 01, 2009.
Other popular games on our download Big Fish Mystery Games page include several Agatha Christie and Nancy Drew games, games in the Mystery Case Files series and in particular the latest, Mystery Case Files: Return to Ravenhearst, Art of Murder: FBI Confidential, the Carol Reed mystery Remedy, Veronica Rivers: Portals to the Unknown, Mystery Chronicles: Murder Among Friends, and The Treasures of Mystery Island.
And don't forget to visit Games of Mystery for all kinds of mysterious fun!
Return to Mystery Books News ...