Games of Mystery, your source for mystery-themed electronic and board games, parties for kids and adults, and mystery getaway vacations, is publishing a new review of Midnight Mysteries. For readers of Mystery Books News, we are printing it here first in advance of its publication on our website.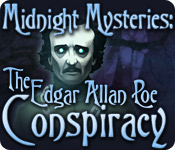 Mystery Game Review: Midnight Mysteries: The Edgar Allan Poe Conspiracy.
Midnight Mysteries is a hidden object game based on the mysterious circumstances surrounding the death of Edgar Allan Poe.
There is a long introduction to the game, and periodically throughout your gameplay will be interrupted with cutscreens that provide a continuation of narrative. It wasn't clear to me where this was leading, though it strongly implied that a solution to the mystery was to be gained by the end of the game. Both the introduction and the cutscreens have options to skip them.
Gameplay is straightforward, with the story divided into 6 chapters. (Note: I was only able to get through most of the second chapter before an apparent software bug prevented me from continuing. This review, therefore, only goes through these first 2 chapters.) The cursor is a skeletal hand that is used for picking objects; it changes to blue when an object needs a tool from your tool chest, or green when a closer look is required.
The screens are beautifully rendered and have "movement", branches swaying and the like. The scenes are atmospheric, something you'd expect to visualize in a Poe story. There are many more objects on the screen than you need to find; the list of objects changes every time you play the game, something that adds interest for replays. Some objects, however, are tools and will be automatically placed in your toolbox. The majority of the objects are placed within the context of the scene; some are randomly (and illogically) placed, and these detract only a bit from the experience. There are quite a few objects that are "hidden in plain sight", so well integrated into the scene that they're easy to overlook. Some objects are partially obscured by other items in the scene.
Clicking randomly causes your ability to obtain a hint to disappear for a short time, but it's really not necessary to do so. I found I was using hints rather frequently. That's partly because they're easy to use, and virtually unlimited. Finding a raven in a scene gives you a hint, but really, you don't need to find the ravens at all. After you use a hint (in the form of a raven), another raven automatically appears several seconds later, restoring your hint. The lantern in the scene is lit when a hint is available, but you don't necessary have to use it to locate an object. Simply selecting the object name will give an outline, oriented properly thought not to scale, of the object to be found. Some of the object names aren't really name, but clues to the object. For example, "wise bird" is an owl, "bottle stopper" is a cork, and "attracts metal" is a magnet. It's a nice touch, and an interesting variation.
But all is not perfect here. I initially got stuck at the beginning of Chapter 2 on the gravestone scene and was never able to find the secret map. Maybe there's some proper order in which the operations much be done, but I got to a point where I could do nothing. Finally, an option showed up that completed the "puzzle" for me, but I'm not sure what that puzzle was. In the next scene I had a scroll briefly in my toolchest, but it soon disappeared. I still don't know what I was supposed to do with it, or how it should have been used. The next scenes of the chapter proceeded smoothly, and I found myself in Poe's study hunting hidden objects. One, a banana ("monkey food"), was plainly in view but couldn't be selected (even though the "selected" sound played every time I clicked on it). Using a hint to try to select it also didn't work. I couldn't go forward, or backward, and there was no option to complete the task for me. Even restarting the game didn't help. I suppose I could have created a new profile and replayed the game (and I still may do that at some point; I'm curious how it plays out, as it were), but I confess I was too discouraged at this point to do so now.
Midnight Mysteries has a beautiful look to it, the background music is appropriately mysterious and the ambient sounds are relevant to the scenes. I greatly enjoyed the experience as long as it lasted, and though I'm willing to concede I was at fault at some point during the gameplay that may have affected later play, there should have been some option to either allow me to proceed or to restart without having to create a new profile. If anyone has a suggestion on how I might have done this differently, leave a comment below and I'll try it.
Reviewed on November 09, 2009 by Ms. Terri, game reviewer for Mystery Books News.
Midnight Mysteries: The Edgar Allan Poe Conspiracy may be downloaded and purchased for $6.99 with a Big Fish Game Club membership. A demonstration version (142.17 MB) may be downloaded and played for free for one hour. Also available: Midnight Mysteries: The Edgar Allan Poe Conspiracy Game Walkthrough.

Watch a preview video below:
Return to Mystery Books News ...