Games of Mystery, your source for mystery-themed electronic and board games, parties for kids and adults, and murder mystery weekends and mystery getaway vacations, is pleased to announce a special sale on a mystery game from Big Fish Games available for a limited time only. You can find out more about this casual game, and others like it, by visiting our Mystery Games: Big Fish Download Games page or by clicking on the links provided below.

For a limited time only (the end date is not given), Mystery Case Files: Return to Ravenhearst may be purchased for only $2.99! Simply use coupon code RTR299 during checkout.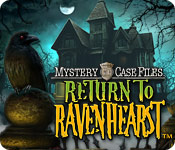 Emma's soul is free. But her ghost has delivered a dire warning: evil still lurks in Ravenhearst Manor. Go deep inside the cursed estate in Mystery Case Files: Return to Ravenhearst, the thrilling sequel to Mystery Case Files: Ravenhearst. Experience Ravenhearst's spectral halls as never before with new immersive adventure-style gameplay and an epic original soundtrack. Feel the floorboards creak as you move from room to room solving puzzles and seeking out clues in over 150 detailed scenes.

Mystery Case Files: Return to Ravenhearst may be downloaded and purchased for $6.99 with a Big Fish Game Club membership. A sample version (92.86 MB) may be downloaded and play for free for one hour; the full unlimited version is 290.93 MB.

Watch a preview video below:
Other popular games on our download Big Fish Mystery Games page include several Agatha Christie and Nancy Drew games, games in the Mystery Case Files series and in particular the latest, Mystery Case Files: Return to Ravenhearst, Adventure Chronicles: The Search for Lost Treasure, Syberia and Syberia II, The Serpent of Isis, James Patterson's Women's Murder Club: A Darker Shade of Grey, and Nick Chase: A Detective Story.

Read our new game reviews by Ms. Terri: Nancy Drew Dossier: Lights, Camera, Curses! (Review), The Hardy Boys: The Perfect Crime (Review), Enlightenus (Review), and Nick Chase: A Detective Story (Review).
Big Fish Games: Bestsellers

Big Fish Games: New releases

And don't forget to visit Games of Mystery for all kinds of mysterious fun!
Return to Mystery Books News ...