Games of Mystery, your source for mystery-themed electronic and board games, parties for kids and adults, and mystery getaway vacations, is publishing a new review of Enlightenus. For readers of Mystery Books News, we are printing it here first in advance of its publication on our website.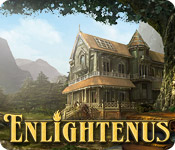 Mystery Game Review: Enlightenus.

Enlightenus is a literary-themed mystery game in which you must help an author reassemble the pages of his novels, which have been scattered throughout a parallel world. The gameplay combines elements of adventure games, puzzles, and hidden objects (but in a different way).

The game opens with a voiceover saying, "On a day like any other, I was sitting in front of my desk when I noticed an urgent message from Edgar Lee, a famous but reclusive author." He invites you to his home where he tells you what has happened. Lee, who writes children's fantasy books, uses a machine to transport himself into the world of Enlightenus where he gets inspiration for his books. He tells you you're his only hope, that only by your sleuthing skills can the pages of his novels be collected and restored.

During the first few scenes you collect an orb (this acts as your hint guide), meet the author, and learn about cards that increase your hint count. (I admit I neglected to find and pick up all the cards as I played the game, but at least in the early going they aren't really necessary.)
You move from room to room by choosing one of two doors. Some doors may require you to complete some task before you can open them (for example, picking up a key and using it to unlock the door). There's no mystery as to what you need to pick up in particular room (or, as shown in the image to the right, on a cobblestone street) as they are highlighted with a sparkling visual effect. The objects are placed in your inventory but you must figure out on your own how they are to be used. These places are scenes from the author's books and are not "real" in the sense that you never actually leave the mansion.

After passing through a door you're presented with what appears to be a standard hidden object scene; these are called chapters in the game. However, instead of finding objects you must place objects that have appeared at the bottom of the screen into the scene. When you've selected an object to be placed, moving the mouse over other objects in the scene bring up descriptions of the item. Sometimes the placement is obvious; a microscope lens must be placed on what is described as a "lensless microscope". Some need to be placed in a particular order (for example, the pumpkin must be scooped out and carved before a candle can be set inside). It isn't too hard to match the items, but it can take some time. Of course, you can always use a hint if necessary.
Once all the objects have been placed, that is, you've completed a chapter, you're given a button. These buttons must then be inserted into other objects in the mansion in order to move forward in the game. You can always randomly alter their locations until you get it right, but it's much more fun to use the clues given to properly place them.

Occasionally you're presented with a puzzle. These puzzles add interest to the gameplay but aren't really very challenging. You can skip them but doing so costs all the hint cards you've accumulated thus far.

There are 42 rooms in total (presented as 3 chapters each of 14 books). Gameplay at first seems to be random, in which you complete different chapters of different books in a non-linear order. And you'll revisit some scenes with a need to place different objects; somewhat inexplicably what you've done before with the scene isn't retained. But I think this may be due to be choices made while moving through the mansion. To be honest, I still haven't completed the game so don't know exactly how it ends nor do I know if I have everything I need to finish the game. But that's part of the appeal of any adventure game!
I found Enlightenus to be enchanting, a delightful twist on the standard adventure / hidden object game. The images are beautifully rendered with incredible detail. The scenes relate to the overall story in an interesting and intriguing way with the book titles, the objects cleverly integrated into and relevant to the chapters.

As with most adventure games, a fair amount of time is spent pondering what to do next, and so it is here. But it never feels tedious; rather, it seems to spur the player on, to look for that clue that may have been missed or overlooked. Still, a walk-through is probably a useful thing to have handy if you really get stuck. Fortunately, both a strategy guide and walk-through are available for Enlightenus.

In summary, I very much enjoyed playing the opening chapters of Enlightenus and look forward to completing the game over the next few days.

Reviewed on July 05, 2009 by Ms. Terri, game reviewer for Mystery Books News.

Enlightenus may be downloaded and purchased for $6.99 with a Big Fish Game Club membership. A trial version may be downloaded and played for free for one hour. Also available: Enlightenus Strategy Guide and a Enlightenus Game Walkthrough.

Watch a preview video below:
Return to Mystery Books News ...