Games of Mystery, your source for mystery-themed electronic and board games, parties for kids and adults, and mystery getaway vacations, is pleased to announce the availability of a new mystery game from Big Fish Games released today. You can find out more about these games by visiting our Mystery Games: Big Fish Download Games page or by clicking on the links provided below.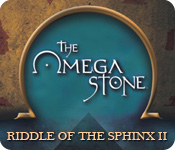 After years of digging, noted archeologist, Sir Gil Blythe Geoffrey uncovered a secret chamber and an ancient papyrus scroll that revealed the whereabouts of an ancient treasure, The Ark of the Covenant. Further exploration led to the discovery of another prophetic scroll, the contents of which unravels an ominous mystery. In The Omega Stone: Riddle of the Sphinx II, you are called upon to lead the exploration and examination of the origins of this sacred scroll, whose symbols point to cultures of great intelligence. This game features full screen animations and stunning, realistic 3D images.

Also available: The Omega Stone: Riddle of the Sphinx II Strategy Guide.

The Omega Stone: Riddle of the Sphinx II may be downloaded and purchased for $6.99 with a Big Fish Game Club membership. Due to its large size, a demonstration version is not available.

Watch a preview video below:
Other popular games on our download Big Fish Mystery Games page include several Agatha Christie and Nancy Drew games, games in the Mystery Case Files series and in particular the latest, Mystery Case Files: Return to Ravenhearst, Adventure Chronicles: The Search for Lost Treasure, Syberia and Syberia II, The Serpent of Isis, James Patterson's Women's Murder Club: A Darker Shade of Grey, and Nick Chase: A Detective Story.

Read our new game reviews by Ms. Terri: Nancy Drew Dossier: Lights, Camera, Curses! (Review), and Nick Chase: A Detective Story (Review).
Big Fish Games: Bestsellers

Big Fish Games: New releases

And don't forget to visit Games of Mystery for all kinds of mysterious fun!
Return to Mystery Books News ...