Games of Mystery, your source for mystery-themed electronic and board games, parties for kids and adults, and mystery getaway vacations, is pleased to announce the availability of a new mystery game from Big Fish Games released today. You can find out more about these games by visiting our Mystery Games: Big Fish Download Games page or by clicking on the links provided below.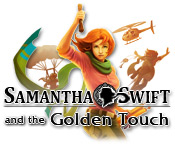 On a quest to recover Alexander the Great's timeless and mysterious Scroll of Wealth, fearless archaeologist and adventurer Samantha Swift realizes that there's more to this mission than she first thought. Now she's racing against the clock to keep ancient magical powers from falling into the wrong hands! Discover the truth about King Midas in this exciting hidden object game, Samantha Swift and the Golden Touch!

Also available: Samantha Swift and the Golden Touch Game Walkthrough.

See also the first game in this series, Samantha Swift and the Hidden Roses of Athena.

Samantha Swift and the Golden Touch may be downloaded and purchased for as little as $6.99 with the Big Fish Game Club Jumbo Pack. A demonstration version (149.31 MB) may be downloaded and played for free for one hour.

Watch a preview video below:
Other popular games on our download Big Fish Mystery Games page include several Agatha Christie and Nancy Drew games, games in the Mystery Case Files series and in particular the latest, Mystery Case Files: Return to Ravenhearst, Adventure Chronicles: The Search for Lost Treasure, Syberia and Syberia II, The Serpent of Isis, James Patterson's Women's Murder Club: A Darker Shade of Grey, and Nick Chase: A Detective Story.

Read our new game reviews by Ms. Terri: Nancy Drew Dossier: Lights, Camera, Curses! (Review), and Nick Chase: A Detective Story (Review).
Big Fish Games: Bestsellers

Big Fish Games: New releases

And don't forget to visit Games of Mystery for all kinds of mysterious fun!
Return to Mystery Books News ...