Games of Mystery, your source for mystery-themed electronic and board games, parties for kids and adults, and mystery getaway vacations, is publishing a new review of asdf. For readers of Mystery Books News, we are printing it here first in advance of its publication on our website.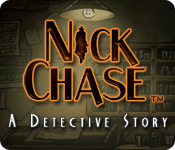 Mystery Game Review: Nick Chase, A Detective Story.
Nick Chase is a private investigator with too much time on his hands. But then he's offered an assignment to track down a missing manuscript purported to have been written by Leonardo da Vinci. Help Nick navigate the maze of clues that leads to its recovery in Nick Chase, A Detective Story.
Nick Chase, A Detective Story is an evolutionary step forward for the standard hidden object game. Objects still have to be found, but in some cases they have to be assembled or otherwise used in a specific order. The game also includes a wide variety of puzzles and arcade-type games, a refreshing break from searching dark rooms for dimly seen objects.
The story behind the game closely follows the format of hard-boiled detective novels. It's a compelling tale and will keep the player moving forward, if only to find out what happens next. The hidden object scenes are beautifully drawn, and have the noir-like quality to accompany the story. The dialog (and voice-over) is a bit clichéd, but in a good way. The background music, often forgettable, actually enhances the experience.
Each hidden object scene opens with a task, often one of several, to be performed before moving on. Finding the objects can be tricky. Fortunately, you're given a number of hints in the form of bullets. A hint "costs" one bullet, but bullets can be found in the scene to replenish your inventory. I was never able to find all the items in a scene without spending a bullet or two. Then again, I never expended all my bullets either.
Most transitions between scenes offer a puzzle to the player. Most of the puzzles are easy to understand, if not always easy to execute. They're not necessarily hard, but can be a bit tedious to complete. (If you're stumped, the puzzles can usually be skipped, albeit accompanied by a warning that you'll achieve a lower score.)

The cut-scenes are provided in a graphic novel style, setting the stage for the next part of Nick's investigation. A character typically introduces the following scene, sometimes providing a hint as to how to complete the following task. It's not always obvious how to proceed, though. Some items can be clicked on but you're preventing from doing anything with them. Nick will tell you that it's unnecessary to do that, but then, what's the point of having them active to be clicked. I was left wondering if I had missed something, even after successfully completing the task.
It should be noted that there is no timer on any of the scenes, so players can take as much time as they need to complete them.

The bottom line: Nick Chase: A Detective Story is as much an interesting mystery to follow as it is a game to enjoy. The striking graphics, interesting characters, creative puzzles, and the ease of playing the game without it being too simplistic (or too difficult) are all points in its favor. A sequel would be a most welcome development.
Reviewed on March 04, 2009 by Ms. Terri, game reviewer for Mystery Books News.
Nick Chase, A Detective Story may be downloaded and purchased for as little as $6.99 with the Big Fish Game Club Jumbo Pack. A trial version may be downloaded and played for free for one hour.

Watch a preview video below:
Return to Mystery Books News ...