Games of Mystery, your source for mystery-themed electronic and board games, parties for kids and adults, and mystery getaway vacations, is publishing a new review of Nancy Drew Dossier: Lights, Camera, Curses! For readers of Mystery Books News, we are printing it here first in advance of its publication on our website.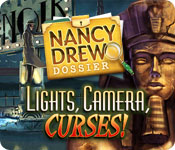 Mystery Game Review: Lights, Camera, Curses!, the first game in the Nancy Drew Dossier series.
The incredible popularity of the Nancy Drew PC mystery games (19 and counting) has spawned an extension of the series to games available for the Nintendo DS and Nintendo Wii, and most recently the first game is a series specifically designed for the casual download market and targeted, somewhat paradoxically, towards an older audience. The developer, HerInteractive, calls the series it designates Nancy Drew Dossier "fast fun for busy detectives". The teen sleuth's first adventure is Lights, Camera, Curses!
Like most of the Nancy Drew games, this one isn't based on any of the books by the pseudonymous Carolyn Keene. Rather, the story is typical of one Nancy Drew might encounter. An opening screen shows a letter to Nancy from Molly McKenna, producer of a remake of the film Pharaoh. Strange and dangerous things have been happening on the set, and someone must find out why and make them stop.
A tutorial introduces the player to the mechanics of gameplay. Objects on the screen must be paired with a use in order to move on. For example, a key might be paired with a locked door to open it. Some objects remain hidden until some other action is performed generally giving the game a logical flow. If something is done out of sequence, a screen will usually tell the player that they need to accomplish something else first. The screen goal is given in the lower right corner and the number of objects yet to be found is also given. A task bar where Nancy can view an item up close, use her flashlight, or perform an action is at the middle bottom. This is also where objects Nancy picks up for later use are stored.
Some of the screens are quite dark and it's hard to see everything, even with a flashlight. A sparkle-effect is seen when a clickable object is found, still I had do some random mouseovers to find everything. But the pairings are logical and reasonable within the context of the story and the setting.
There are 26 chapters and though all require the player to do basically the same thing, it doesn't get boring. The story is interesting and there's a real sense of progression towards an outcome, that is, solving the mystery. The cutscreens between the chapters provide plot continuity and offer the player an opportunity to solve puzzles, play mini-games, and brain-teasers in the form of interview questions. Points are awarded for most actions, though I didn't much pay attention to my score the first time through.
The graphics are beautifully rendered, and the characters have individual, well-developed identities. The background music is appropriate to the game, though there doesn't seem to be a game option to mute it.
In short, Lights, Camera, Curses! is a delightfully agreeable game that can be enjoyed by all ages and will provide hours of entertainment. HerInteractive may be on to something here, appealing to older players who enjoyed the Nancy Drew mysteries in their youth. The replay potential is moderately high, especially if one tries to achieve an ever higher score.
I'll definitely be looking forward to the next installment in this series.
Reviewed on February 15, 2009 by Ms. Terri, game reviewer for Mystery Books News.
Nancy Drew Dossier: Lights, Camera, Curses! may be downloaded and purchased for as little as $6.99 with the Big Fish Game Club Jumbo Pack. Due to its large size, a downloadable trial version is not available but the first few chapters may be played online for free.

Watch a preview video below:
Return to Mystery Books News ...