Games of Mystery, your source for mystery-themed electronic and board games, parties for kids and adults, and mystery getaway vacations, is pleased to announce the availability of a new mystery game from Big Fish Games released today. You can find out more about these games from our Mystery Games: Big Fish Download Games page or by clicking on the links provided below.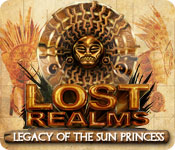 Alexia is woman in need of answers. Her nights are wracked with dark visions of an ancient Incan empire, burning and ruined. She sets out with her best friend Nicole to Cuzco, Peru, in search of ancestral ruins, armed with little more than visions, and hope. In an exotic tropical setting, help Alexia search for clues of her connection to the ancient Incas, and solve the mystery that devastated an empire. Devious puzzles await, but Alexia can not rest until she uncovers the truth in Lost Realms: Legacy of the Sun Princess.
Lost Realms: Legacy of the Sun Princess may be downloaded and purchased for as little as $6.99 with the Big Fish Game Club Jumbo Pack. A demonstration version may be downloaded (73.47 MB) and played for one hour for free.
Other popular games on our download Big Fish Mystery Games page include several Agatha Christie and Nancy Drew games, games in the Mystery Case Files series and in particular the latest, Mystery Case Files: Return to Ravenhearst, Art of Murder: FBI Confidential, the Carol Reed mystery Remedy, Veronica Rivers: Portals to the Unknown, Mystery Chronicles: Murder Among Friends, and The Treasures of Mystery Island.
And don't forget to visit Games of Mystery for all kinds of mysterious fun!
Return to Mystery Books News ...