Games of Mystery, your source for mystery-themed electronic and board games, parties for kids and adults, and mystery getaway vacations, is pleased to announce the availability of a new mystery game from Big Fish Games released today. You can find out more about these games from our Mystery Games: Big Fish Download Games page or by clicking on the links provided below.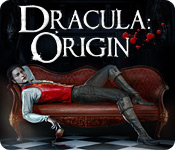 Play as the vampire slayer Professor Van Helsing, hot on the trail of the diabolical Count in Dracula Origin, a thrilling adventure game! The ruthless Dracula is searching for an ancient, eldritch ritual to return damned souls to the earth. As the eminent Professor Van Helsing it's up to you to stop him before his evil machinations are realized! Populated with terrifying 3D characters and presenting challenging puzzles, sharpen your stakes and dive into the terrifying depths of Dracula Origin today!
Dracula Origin, a Big Fish Games exclusive, may be downloaded and purchased for as little as $6.99 with the Big Fish Game Club Jumbo Pack. Due to the large size of this adventure game, a demonstration version is not available.

Other popular games on our download Big Fish Mystery Games page include several Agatha Christie and Nancy Drew games, games in the Mystery Case Files series and in particular the latest, Mystery Case Files: Return to Ravenhearst, Art of Murder: FBI Confidential, the Carol Reed mystery Remedy, Veronica Rivers: Portals to the Unknown, Mystery Chronicles: Murder Among Friends, and The Treasures of Mystery Island.
And don't forget to visit Games of Mystery for all kinds of mysterious fun!
Return to Mystery Books News ...