Games of Mystery, your source for mystery-themed games, parties, and vacations, is pleased to announce the availability of a new mystery game from Big Fish Games released today. You can find out more about these games from our Mystery Games: Big Fish Download Games page or by clicking on the links provided below.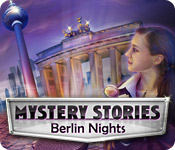 Join journalist Michelle Deanfield as she unravels the mystery surrounding a lost marvel in Mystery Stories: Berlin Nights. Archeologists have uncovered a century-old machine that could end the world's energy problem. Can Michelle, with the help of a dashing, German engineer, thwart the efforts of an ominous sect and ruthless ex-KGB agents, in a pulse-pounding race to collect the hidden components of the generator? Buy Mystery Stories: Berlin Nights today and find out!
Mystery Stories: Berlin Nights, a Big Fish Games exclusive, may be downloaded and purchased for as little as $6.99 with the Big Fish Game Club Jumbo Pack. A demonstration version is available to download (102.70 MB) and to play free for one hour.
Other popular games on our download Big Fish Mystery Games page include several Agatha Christie and Nancy Drew games, Art of Murder: FBI Confidential, the Carol Reed mystery Remedy, Veronica Rivers: Portals to the Unknown, Mystery Chronicles: Murder Among Friends, and The Treasures of Mystery Island.
Visit Games of Mystery for all types of mysterious fun!
Return to Mystery Books News ...