Games of Mystery, your source for mystery-themed games, parties, and vacations, is pleased to announce the availability of a new mystery game from Big Fish Games released today. You can find out more about these games from our Mystery Games: Big Fish Download Games page or by clicking on the links provided below.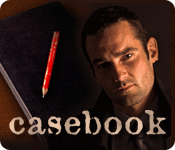 Children have been kidnapped! Take on the role of a forensic investigator and find them before it's too late in Casebook. Explore stunningly realistic crime scenes and challenge your sleuthing skills with intriguing mini-games! Be part of the action as you watch the thrilling story unfold in this adventure game with photorealistic 3D crime scenes and authentic forensic mini-games. Buy Casebook today and immerse yourself in the harrowing world of forensic science!
Casebook, a Big Fish Games exclusive, may be downloaded and purchased for as little as $6.99 with the Big Fish Game Club Jumbo Pack. Due to the size of the game, a demonstration version is not available, but a short video trailer illustrates some of the basic game play.
Other popular games on our download Big Fish Mystery Games page include several Agatha Christie and Nancy Drew games, James Patterson's Women's Murder Club: Death in Scarlet, The Lost Cases of Sherlock Holmes, Veronica Rivers: Portals to the Unknown, and Forgotten Riddles: The Moonlight Sonatas.
Visit Games of Mystery for all types of mysterious fun!
Return to Mystery Books News ...