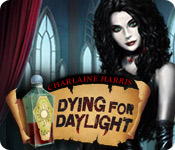 Consisting of four episodes and featuring vampire Dahlia Lynley-Chivers, a character created by mystery author Charlaine Harris, Dying for Daylight is an entertaining, though at times challenging, hidden object (but not quite adventure) game that has a compelling storyline and a high quality look to it.

Read Ms. Terri's complete review on Games of Mystery Reviews: Dying for Daylight.
— ◊ —
Games of Mystery is your source for mystery-themed video, electronic and board games, parties for kids and adults, murder mystery weekends and mystery getaway vacations, and more mysterious fun!