We continue to be impressed by some of the deals coming out of Big Fish Games.

Here's the latest: From now until the end of the year, December 31st, 2010, you can download one of the most popular mystery games in their library -- indeed, one of the most popular mystery games ever released -- totally free!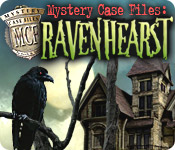 Rumors surrounding the history of stately Ravenhearst Manor have circulated for decades. The recently acquired diary of Emma Ravenhearst may hold the key to unraveling the tale behind this unsettling place, yet the pages are missing.

You assume the role of Master Detective to unlock secrets held within Ravenhearst, scouring enchanting rooms in the manor for cleverly hidden clues. Locating and assembling diary pages helps tell the story of the house and, ultimately, unlock the mystery.

Mystery Case Files: Ravenhearst can be downloaded for free by simply using the coupon code ravenfree at checkout.

And if you enjoy the game, you can save 65% on the sequel, Mystery Case Files: Return to Ravenhearst by using the coupon code rtrspecial for this game at checkout.

The coupon deals can be combined. Add both games to your cart, enter both coupon codes where indicated, and pay just $3.49!

New customers can also receive a free BFG Club Membership for one month. BFG Club Members save 30-70% on all games, have early access to new games, and have the opportunity to earn free games every month!