From Monday, August 2nd, through Sunday, August 8th, the Big Fish Games Catch of the Week involves finding a mysterious ring in Cassandra's Journey: The Legacy of Nostradamus. Use the coupon code CATCH299 at checkout to purchase the game for $2.99.

In Cassandra's Journey: The Legacy of Nostradamus, a young mystic relies on a mysterious ring to solve cases that are assumed to be impossible. One day, Cassandra is visited by a client needing help. Agreeing to the case she opens her secret box to reveal her enchanted ring. As the magical seal is broken it is discovered that her ring has gone missing! Now it is up to you, with the help of the spirit of Nostradamus and unique mind-reading magic tricks and fortune-telling wisdom, to find the missing ring and help Cassandra reveal the secrets of her family, before they are forever lost!

Find more (regularly priced) mystery games to download on our BFG Adventure Games and BFG Hidden Object Games pages.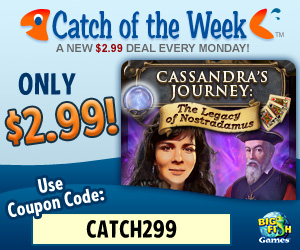 — ◊ —
Games of Mystery is your source for mystery-themed video, electronic, and board games, parties for kids and adults, and murder mystery weekends and mystery getaway vacations!