Games of Mystery is pleased to provide our readers with current promotions that offer discounts or other incentives for purchasing mystery-themed products and services. Below is a special offer we recently received that may be of interest to you.
— ◊ —
Starting today, May 10th, through Sunday, May 16th, Big Fish Game's Catch of the Week is Mystic Diary: Lost Brother. Simply use coupon code CATCH299 at checkout to purchase this games for only $2.99.

In Mystic Diary: Lost Brother, you take on the role of a Victorian-era magician on a noble quest to find his lost brother. Travel throughout the world using the magical pages of the Mystic Diary to unlock the mystery behind your brother's sudden disappearance. Find hidden objects and solve fun mini puzzles in this one-of-a-kind adventure game. Save your brother and become a master of the Mystic Diary!

Also available: Mystic Diary: Lost Brother Strategy Guide and a Mystic Diary: Lost Brother Game Walkthrough.

Find more (regularly priced) mystery games to download on our BFG Adventure Games and BFG Hidden Object Games pages.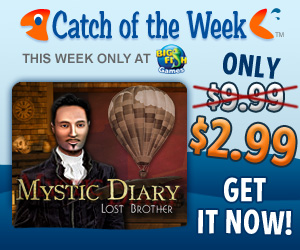 — ◊ —
Games of Mystery is your source for mystery-themed video, electronic, and board games, parties for kids and adults, and murder mystery weekends and mystery getaway vacations!
Return to Mystery Books News ...