Games of Mystery is pleased to provide our readers with current promotions that offer discounts or other incentives for purchasing mystery-themed products and services. Below is a special offer we recently received that may be of interest to you.
— ◊ —
Starting just after midnight tonight at 12:01 AM PT, all games (except Collector's Editions) at Big Fish Games are available for 30% off! Simple use coupon code SUPERMOM at checkout.

We frequently feature mystery and suspense games here on MBN. On our Games of Mystery site, we divide them into two categories: Adventure (or what BFG calls Large File) games and Hidden Object games. We also have a few reviews of these games, written by Ms. Terri, game reviewer for Omnimystery; she'll be reviewing many more games this summer!

The BFG Mother's Day 30% Off Sale lasts from Friday (May 7th, 2010) through midnight Sunday (May 8th, 2010). Click on the banner below to visit the site!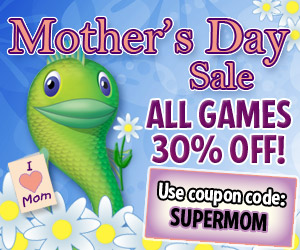 — ◊ —
Games of Mystery is your source for mystery-themed video, electronic, and board games, parties for kids and adults, and murder mystery weekends and mystery getaway vacations!
Return to Mystery Books News ...