Games of Mystery, your source for mystery-themed electronic and board games, parties for kids and adults, and mystery getaway vacations, is pleased to announce the availability of a new mystery game from Big Fish Games released today. You can find out more about these games by visiting our Mystery Games: Big Fish Download Games page or by clicking on the links provided below.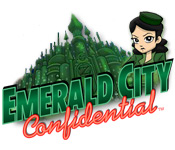 The magical land of Oz has never seemed so gritty! Petra is the only private detective in this reimagining of the Emerald City, so it is up to her to find Dee Gale's missing fiancé. Dive deep into the seedy underbelly of the criminal underground, and track down the kidnappers, as well as learn a few secrets about Petra! This sprawling adventure game pulls out all the stops!

Emerald City Confidential may be downloaded and purchased for as little as $6.99 with the Big Fish Game Club Jumbo Pack. A demonstration version (79.21 MB) may be downloaded and played for free for one hour.

Watch a preview video below:
Other popular games on our download Big Fish Mystery Games page include several Agatha Christie and Nancy Drew games, games in the Mystery Case Files series and in particular the latest, Mystery Case Files: Return to Ravenhearst, Adventure Chronicles: The Search for Lost Treasure, the Carol Reed mystery Remedy, Mystery Legends: Sleepy Hollow, Mystery Chronicles: Murder Among Friends, and Nick Chase: A Detective Story.

Read our new game reviews by Ms. Terri: Nancy Drew Dossier: Lights, Camera, Curses! (Review), and Nick Chase: A Detective Story (Review).
Big Fish Games: Bestsellers

Big Fish Games: New releases

And don't forget to visit Games of Mystery for all kinds of mysterious fun!
Return to Mystery Books News ...