Games of Mystery, your source for mystery-themed games, parties, and vacations, is pleased to announce the availability of a new mystery game from Big Fish Games released today. You can find out more about these games from our Mystery Games: Big Fish Download Games page or by clicking on the links provided below.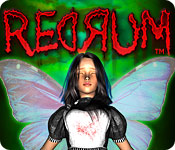 Rose sees dead people. Unfortunately her visions have landed her in an asylum. You must help Rose to use her psychic powers and ghostly visions to solve a series of grisly murders and thwart the plans of an evil doctor in Redrum, a pulse-pounding hidden object game. Warning: Redrum is an intense psychological murder mystery with dark surreal graphics intended for mature audiences.
Redrum, a Big Fish Games exclusive, may be downloaded and purchased for as little as $6.99 with the Big Fish Game Club Jumbo Pack. A demonstration version (53.10 MB) is available to play free for one hour.
Other popular games on our download Big Fish Mystery Games page include several Agatha Christie and Nancy Drew games, James Patterson's Women's Murder Club: Death in Scarlet, The Lost Cases of Sherlock Holmes, Veronica Rivers: Portals to the Unknown, and Forgotten Riddles: The Moonlight Sonatas.
Visit Games of Mystery for all types of mysterious fun!
Return to Mystery Books News ...