Games of Mystery, your source for mystery-themed games, parties, and vacations, is pleased to announce the availability of a new mystery game from Big Fish Games released today. You can find out more about these games from our Mystery Games: Big Fish Download Games page or by clicking on the links provided below.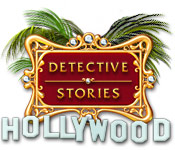 Tinseltown's in trouble! A famous actress, $10 million in cash, and the only copy of one of the company's most highly anticipated films are all missing! The film company has hired Angela, a famous Hollywood detective, to work on the case. Unravel the spectacular web of intrigue through intense logic puzzles, mini-games, and a little help from Hollywood mega-stars as you piece together the mystery behind Detective Stories: Hollywood!
Detective Stories: Hollywood may be downloaded and purchased for as little as $6.99 with the Big Fish Game Club Jumbo Pack. A demonstration version may be downloaded (32.88 MB) and played for one hour for free.
Other popular games on our download Big Fish Mystery Games page include several Agatha Christie and Nancy Drew games, Art of Murder: FBI Confidential, the Carol Reed mystery Remedy, Veronica Rivers: Portals to the Unknown, Mystery Chronicles: Murder Among Friends, and The Treasures of Mystery Island.
And don't forget to visit Games of Mystery for all kinds of mysterious fun!
Return to Mystery Books News ...