Games of Mystery, your source for mystery-themed electronic and board games, parties for kids and adults, and mystery getaway vacations, is pleased to announce the availability of a new mystery game from Big Fish Games released today. You can find out more about these games by visiting our Mystery Games: Big Fish Download Games page or by clicking on the links provided below.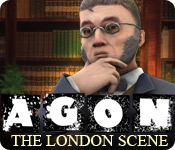 Help Professor Samuel Hunt, from the British Museum, discover the ancient secrets of some mysterious artifacts in AGON: The London Scene! After receiving a vague message and a manuscript, the Professor begins a journey that will take him all over the world. Use your wits to solve timeless riddles, and piece together the clues in this fun adventure game. Figure out exactly what Professor Hunt is searching for!

Also available: AGON: The London Scene Strategy Guide.

AGON: The London Scene may be downloaded and purchased for $6.99 with a Big Fish Game Club membership. A sample version (179.61 MB) may be downloaded and played for free for one hour; the full unlimited version is 205.49 MB.

Watch a preview video below:
Other popular games on our download Big Fish Mystery Games page include several Agatha Christie and Nancy Drew games, games in the Mystery Case Files series and in particular the latest, Mystery Case Files: Return to Ravenhearst, Adventure Chronicles: The Search for Lost Treasure, Syberia and Syberia II, The Serpent of Isis, James Patterson's Women's Murder Club: A Darker Shade of Grey, and Nick Chase: A Detective Story.

Read our new game reviews by Ms. Terri: Nancy Drew Dossier: Lights, Camera, Curses! (Review), The Hardy Boys: The Perfect Crime (Review), and Nick Chase: A Detective Story (Review).
Big Fish Games: Bestsellers

Big Fish Games: New releases

And don't forget to visit Games of Mystery for all kinds of mysterious fun!
Return to Mystery Books News ...