Games of Mystery, your source for mystery-themed electronic and board games, parties for kids and adults, and mystery getaway vacations, is pleased to announce the availability of a new mystery game from Big Fish Games released today. You can find out more about these games by visiting our Mystery Games: Big Fish Download Games page or by clicking on the links provided below.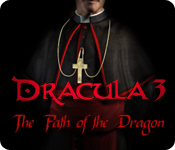 In Dracula 3: The Path of the Dragon Father Arno has been sent to Vladoviste in Transylvania, a small town still recuperating from battle after the first World War. He's on a mission from the Vatican to investigate the life of a deceased woman reputed to be a saint. But the past he uncovers is shrouded with grief and mystery and undying devotion. As night falls and the last train pulls away, something evil lurks across the graves of fallen soldiers, and Father Arno's nightmarish visions are becoming all too real.

Dracula 3: The Path of the Dragon may be downloaded and purchased for as little as $6.99 with the Big Fish Game Club Jumbo Pack. Due to the large size of the game, a demonstration version is not available. Also available for download: Dracula 3: The Path of the Dragon Strategy Guide.

Watch a preview video below:
Other popular games on our download Big Fish Mystery Games page include several Agatha Christie and Nancy Drew games, games in the Mystery Case Files series and in particular the latest, Mystery Case Files: Return to Ravenhearst, Adventure Chronicles: The Search for Lost Treasure, the Carol Reed mystery Remedy, Mystery Legends: Sleepy Hollow, Mystery Chronicles: Murder Among Friends, and Nick Chase: A Detective Story.

Read our new game reviews by Ms. Terri: Nancy Drew Dossier: Lights, Camera, Curses! review, Nick Chase: A Detective Story review.
Big Fish Games: Bestsellers

Big Fish Games: New releases

And don't forget to visit Games of Mystery for all kinds of mysterious fun!
Return to Mystery Books News ...