Games of Mystery, your source for mystery-themed games, parties, and vacations, is pleased to announce the availability of a new mystery game from Big Fish Games released today. You can find out more about these games from our Mystery Games: Big Fish Download Games page or by clicking on the links provided below.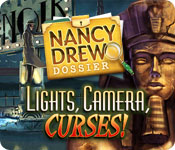 Last week Her Interactive, the developer of the hugely popular Nancy Drew series of mystery games, announced a new Nancy Drew Dossier series of casual games specifically designed for the download PC market. Today, Big Fish Games released the first in this new series of games, Nancy Drew Dossier: Lights, Camera, Curses!

A beleaguered movie studio is attempting to remake a classic film that cost its leading lady her life. Go undercover on the set to get to the bottom of suspicious press leaks and uncanny accidents that have put the production schedule in jeopardy. Is someone trying to sabotage the movie or is it the curse of the fallen starlet? Put your detective skills to the test with Nancy Drew Dossier: Lights, Camera, Curses! today.
Nancy Drew Dossier: Lights, Camera, Curses! may be downloaded and purchased for as little as $6.99 with the Big Fish Game Club Jumbo Pack. Due to its large size, a demonstration version is not available but a short video demonstrates basic game play.
Other popular games on our download Big Fish Mystery Games page include several Agatha Christie and Nancy Drew games, Art of Murder: FBI Confidential, the Carol Reed mystery Remedy, Veronica Rivers: Portals to the Unknown, Mystery Chronicles: Murder Among Friends, and The Treasures of Mystery Island.

View the trailer for Nancy Drew Dossier: Lights, Camera, Curses! below:
And don't forget to visit Games of Mystery for all kinds of mysterious fun!
Return to Mystery Books News ...