Games of Mystery, your source for mystery-themed games, parties, and vacations, is pleased to announce the availability of a new mystery game from Big Fish Games released today. You can find out more about these games from our Mystery Games: Big Fish Download Games page or by clicking on the links provided below.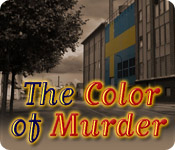 Explore the cityscapes of Sweden and unravel the mystery surrounding the murder of a local artist in this clever adventure game! What begins as a simple search for a missing person quickly escalates into an intriguing case of murder! Help Carol Reed track down the missing son of a friend and uncover the sinister ties he may have to a grizzly mystery! Pack your bags for Norrkoping, Sweden and discover The Color of Murder. The Color of Murder Strategy Guide is also available.
The Color of Murder, a Big Fish Games exclusive, may be downloaded and purchased for as little as $6.99 with the Big Fish Game Club Jumbo Pack. Due to the large size of the file, a demonstration version is not available though a video is available that illustrates basic game play.
Other popular games on our download Big Fish Mystery Games page include several Agatha Christie and Nancy Drew games, James Patterson's Women's Murder Club: Death in Scarlet, The Lost Cases of Sherlock Holmes, Veronica Rivers: Portals to the Unknown, and Forgotten Riddles: The Moonlight Sonatas.
Visit Games of Mystery for all types of mysterious fun!
Return to Mystery Books News ...